Account Setup How-To Guide
Establish a Username and Password
After signing up, you will automatically be directed to establish a username and password at https://auth.therapractic.com/Account/Register
For your username, use the same email that you entered when you purchased your Therapractic subscription. Be certain that you have access to that email before proceeding further.
For your password, we recommend that the password is at least 8 characters long, and does not contain your username or real name.
If you have trouble with your operating system, then:
Check that cookies are enabled
Check that JavaScript is enabled
Try refreshing the page
Setting up the Organizational Management & basic account information
1. From the home page, therapractic.com, click "Organizational Management".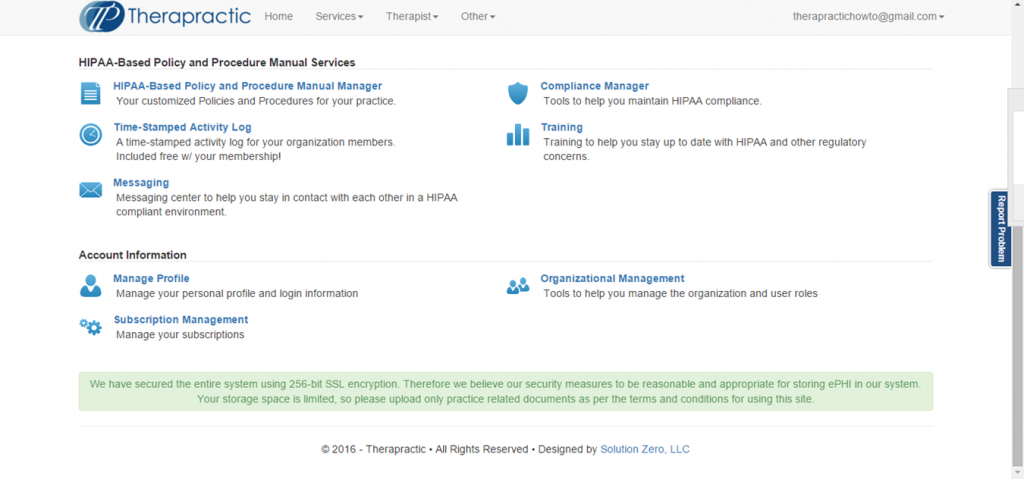 2. Enter your Organization's Information and click "Save".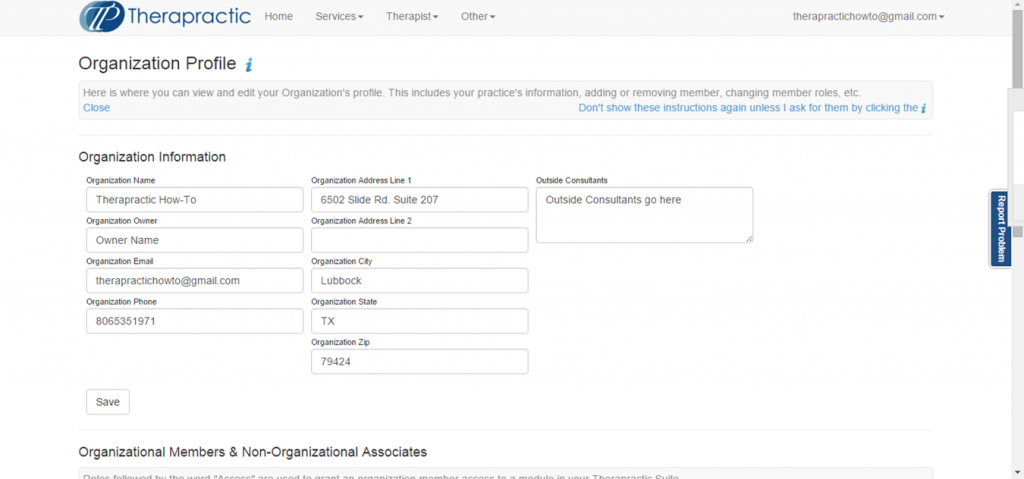 3. Create an organization member by entering their name and email address. Select specific roles for the user. It is probably wise to set yourself as the program administrator (Only the program administrator has access to the Organization Profile page. The only person that has access to it is the program administrator)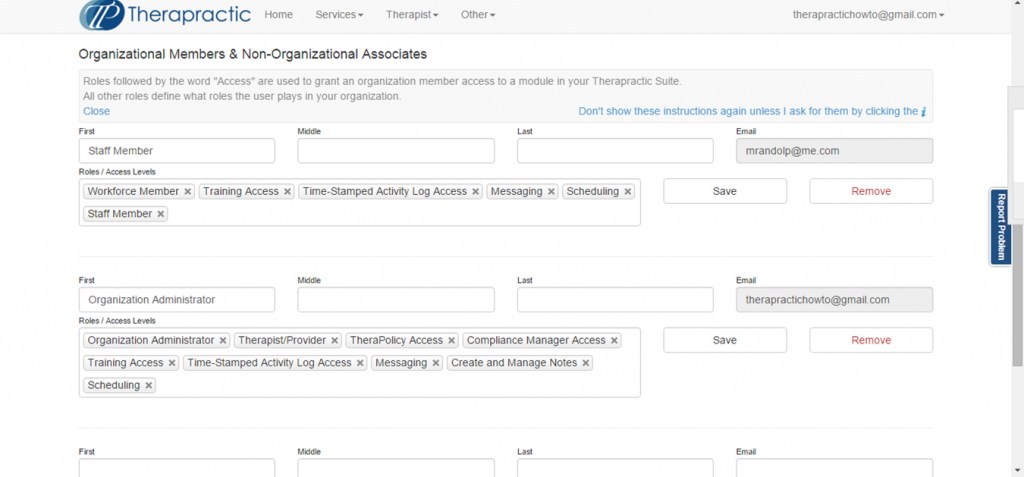 Note: It will be necessary to specifically identify what "Roles" (i.e. access levels) each Organization Member will have, such as: Training, TheraPolicy (Policy & Procedure Manual), Messaging System, and Time Stamped Activity Log. No identified role automatically gives access to these areas except the Administrator. At our clinic, only the administrator and I have access to the Organization Administrator and Time Stamped Activity Log, because both provide access to the "Time Stamped Activity Log". Sensitive issues such as workforce concerns, sanctions, etc., are recorded in the log for the time documentation purposes. Once information is saved in the log, it cannot be erased or altered (although it can be clarified and revised in further documentation. HIPAA mandates the designation of a Privacy and Security Officer (which can be the same person). These designations are assigned at the "Role" section. If a member is given access to the TheraPolicy, then they also have the ability to modify it. If you want someone to read the Policy & Procedure Manual without an ability to edit it, then do not give access to the TheraPolicy and instead provide them with a printed copy. It is necessary to identify Non-Organization Associates (individuals outside your organization with a need to have certain services or access levels). For instance, our billing company has clearance to the messaging system, because we need to exchange encrypted patient information with them. We also know that HIPAA requires they have ongoing training in their role as Business Associates, so we give them access to our training (making it easier and thus more likely to get it done). When training is completed, it will be automatically entered on the Time Stamped Activity Log, even for Non-Organization Associates. "Create and Manage Notes" provides access to the HIPAA/Medicare/Medicaid/PQRS Sensitive Practice Management and Electronic Health Notes section.
Setting Passwords for workforce and other individuals
Once the Organizational Profile has been established, individuals listed in the organization profile will need a password, which will give them access to the system levels you have assigned.
1. That individual will be sent an email requesting to activate the account.
2. Click on the link to activate the account. You will be directed to a page to create a new password.
3. After entering the password, click "Activate".